The ethical approach
Totem cares about sustainability
We are doing our part to make a more sustainable future for our kids and our planet
by embarking on a journey to make a positive change by becoming eco-friendly.
We breath new life into old used things
Instead of allowing more plastic PET bottles to pile up in landfills, we are giving them new life
by turning them into beautiful Totem bags made from recycled polyester fabrics.
We all have a part to play
Join the movement of conscious consumers as you shop smarter with Totem
and help minimise the negative impact of single-use plastics on our planet.
From bottles to bags
This is how it's done.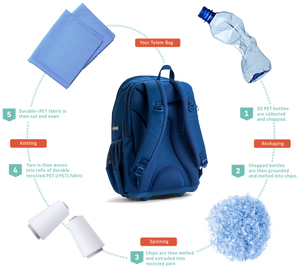 Why rPET ?
Our new eco-friendly fabric is made from Recycled PET fibres which have been certified by the Global Recycled Standard (GRS).
We use rPET because:
It reduces reliance on virgin petroleum as a raw material.
It decreases greenhouse gas emissions created from processing virgin polyester.
It's healthy and safe for humans and the environment.
Curious about the process?
Watch this video explaining how single use plastic bottles are recycled into polyester fabrics.
Dyes
Regular dyes are packed with all kinds of harsh chemicals, but we have committed to use ZERO hazardous chemicals or toxic dyes in our manufacturing process. This means you can rest assured that your child's school lunch is safe when packed in their Totem. Not only are our bags eco-friendly, but they are also built to last, making them a smart and sustainable solution.

Quality = Durability = Long-lasting = No need to replace your bag so frequently.
Quality
We use best quality raw materials and tried and tested production methods to give you quality products that are consciously crafted.
Durability
We manufacture with highly professional factories, who do quality rub testing on our fabrics and durability testing on our zippers.
Long-lasting
We back our belief in our products being long-lasting with our 3 year guarantee offer, knowing that our bags will last 3 years, and beyond.